All the artists below have been held or are currently held within the Tony's Art private collection. Many of the artist have been or are close friends of the gallery for years and have been/are framing with our establishment in many occasions for exhibitions and client referrals.
Jose Maria Mijares
Born in 1921 in Havana, Cuba

Studied art in 1936 at the San Alejandro Academy of Fine Arts

Resided in Miami from 1968 until his death in 2004

Florida International University awarded him with an honorary doctorate in Fine Arts in 2001

Awarded the Cintas Fellowship (1970–1971) and the National Paintings Prize from the IV National Paintings, Engravings and Sculptures Salon

Exhibited in Havana, Paris, Caracas, Port-au-Prince (Haiti), Sao Paulo, Tokyo, Washington D.C., and Miami, among other cities
Hector Catá
Born in 1947 in Havana, Cuba

Graduated in 1972 from the prestigious art school "Escuela Nacional de Bellas Artes "San Alejandro", the oldest and most prestigious fine arts school in Cuba

Was an art teacher at both San Alejandro School of Fine Arts and at the Pottery Studio & Gallery of "Amelia Pelaez"

Several of his work have won multiple awards and have been selected to commemorate significant dates and events

An internationally known artist and has participated in over forty solo and group exhibitions

Some of his private collections are owned by celebrities like "Shakira", "Ricky Martin", "Alejandro Sanz", "Maria Conchita Alonso", "Olga Guillot", "Ben Affleck", "Antonio Banderas" , "Malena Bourke"
Vicente Dopico Lerner
Born in 1943 in Havana, Cuba

Was the director of the Cuban Museum of Art and Culture in Miami

Received a B.A and a M.A. in fine arts from St. Thomas University

Studied visual arts, watercolor, drawing, painting and design at the Art Students League of New York in Manhattan

Awarded the Cintas Foundation Fellowship, New York, in 1976 and three years later the Society of Fine Arts, St. Petersburg, Florida
Jose Evelio Rodriguez
Born on 1954 in Habana, Cuba

Studied architectural draftsman with the professor Jorge Vasquez

Worked with the architect, painter and cartoonist, Gustavo Botet who encouraged him to study in San Alejandro Arts Academy

In 1988, he created The Guitaforas (Pen Drawing) for the French Magazine: "Les Cahiers De La Guitare", for the

International

Guitar

Festival in Habana, Cuba

Currently lives in Miami
Luis Miguel Rodriguez
Born in Havana, Cuba September 29th 1959

At the age of 13, his outstanding abilities to create sketches and drawings led to him to be selected by the prestigious academy of art "San Alejandro" of Havana Cuba

His love for underwater diving opened a new prospective for his abilities as an artist, allowing him to comprehensively explore and gain a great influence of the marine environment which surrounded him during his diving ventures

Underwater influences are still predominant in his paintings, as it continues to compliment and display his vision of the sea world on the canvas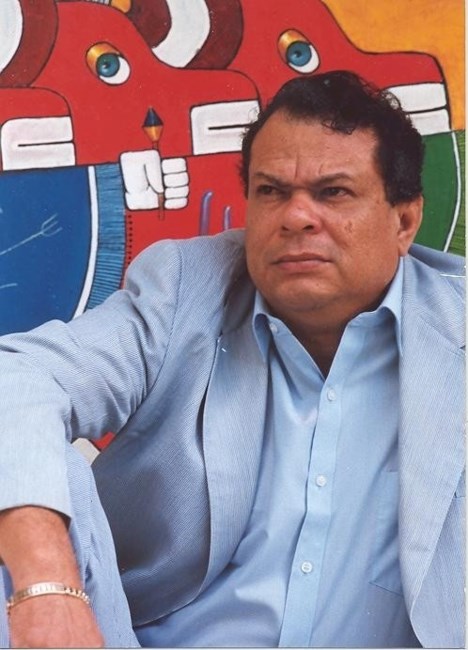 César Caracas